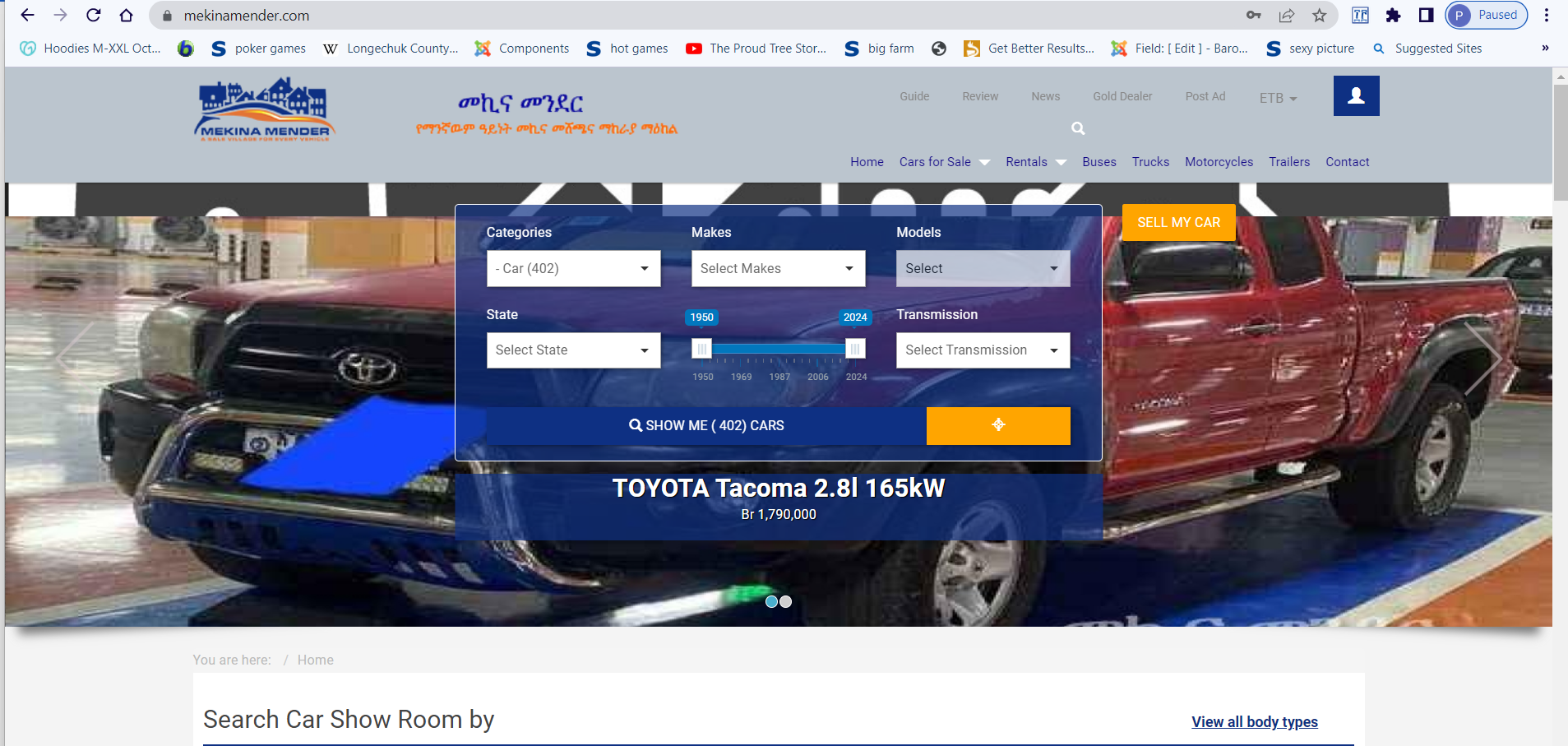 As far as the search for cars online  is concerned, there is no other website in Ethiopia we can think of that beats  Mekina Mender. There are a lot of things to consider to validate the effectivesness  
of a website such as Mekina Mender. This is not a bout the look and feel of the website. But it is a bout the filter which helps website users to narrow their search based on their situation whether a need, budget wise or any other opnion they may have in mind. 
Thus, like any website in the western world which deals with auctions, sales or rentals, Mekina Mender is just there in the ranks.  This is because to search for a car is not easy. You would have to think about the brand (Make). This forms part of a major role in car purchase or lease.
Once you know in mind the sort of Brand (make)  you are going to buy, then, you will also think about the budget. For instance, if you are looking to buy  aToyota Corolla and your budget is around 1,000,000 Birr, there is no point searching for cars that are made in 2022 or 2023. This cars would cost close 2,000,000 Birr. So you can narrow your search by selecting Toyota corollas that are 5 to 10 years old asthey would cost around your budget.
To perform such a role, Mekina Mender can help you with that using the filter system. This is particularly useful if the website has so many cars to go through. So, with those filters which enable you to search the car by year of manufacture, make, model, kilometres, number of doors or engine sizes, it is fair to say that Mekina Mender is not too far off being the best or one of the best website in the country. And, the answer for the question above is  a Yes. Mekina Mender is a good website to advertise a car online for sale because it helps car buyers to narrow their search and find what they are looking in no time wasted. Remember, Mekina Mender does not involve in any transaction. We just advertise your cars or listings.