Cadillac ATS priced at $33,990 (2)
The 2013 Cadillac ATS, which we first saw at the Detroit auto show, will start at $33,990 when it goes on sale this summer, General Motors said on Monday. The range-topping version will carry a price of $42,090. Power for the base model will come from a 2.5-liter, four-cylinder engine that returns 30 mpg on the highway. A mid-level model will offer a 2.0-liter turbocharged four and will be available with rear- or all-wheel drive. Cadillac's 3.6-liter V6 will power the top model, with an estimated 320 hp.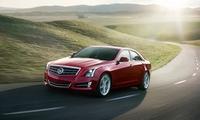 Top trims will come with Cadillac's CUE entertainment system, an automatic transmission, eight-way power seats with memory, adaptive remote start and more. A full breakdown of pricing will be available later this year. The Cadillac will compete with Audi A4, the Mercedes-Benz C-class and the BMW 3-series when it arrives. All are priced in the $30,000-to-$40,000 range. An ATS-V hasn't been announced yet, but we have seen some suspiciously fast Cadillacs at the Nürburgring recently.