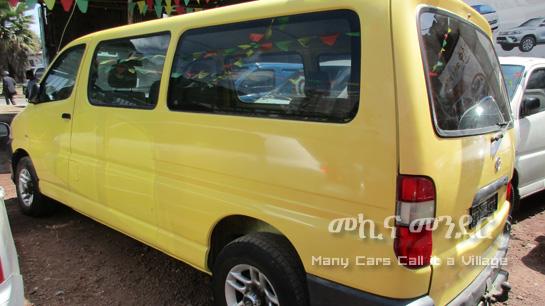 Are you looking for a people mover van that you can use for transporting people with in Addis Ababa or the surroundings? Well there is this nice Van Available for sale in Zeleke carsales.
Very Nice Quality cars are at Zelkos Carsales. Do you want to get in touch with the sale representatives of the Zeleke Car Sales people, well give them a ring on 
0911 308 614 / 0911 234 548.
Are you a car Sellers who want to advertise cars
If you are a car sellers and would like to advertise cars online, your first point to do that is Mekina Mender viewed via http://www.mekinamender.com . It is cheap and we do all the work for you. At the end of the day, you get the result. Mekina Mender has over 1000 unique visitors who vists the website each day. That is a direct hit from Google Search. We have a lot of traffic from facebook. Over 35,000 users visit our site from facebook. The website gets over 500 New Likes every week. Currentky, we have nearly 21,0000 new likes.